Click here for help and support.
Get beautifully mastered audio, automatically.
AudioCupcake gives Mac-based audiobook narrators, producers and podcasters a simple, beautiful mastering tool that makes your audio sound spectacular.
Go from good performance to great performance.
Record and edit your finished audio, then use AudioCupcake to make it great, with proper RMS normalization for ACX (and everyone else).
And with the Premium version, you get peak normalization and MP3 file output.
Drag and drop your files in one move.
All this gooey goodness takes just one drag of your WAV or AIFF files, and just one drop onto AudioCupcake. Nothing else you need to do, except enjoy how easy it is.
Come for the RMS, stay for the MP3.
We don't stop there. AudioCupcake comes in two delicious flavors:
FREE VERSION:
-18 to -23 dB RMS normalization.
PREMIUM VERSION (one time payment of $19.95):
-18 to -23 dB RMS normalization.
-3.0 dB peak normalization
192k mono MP3 file output, ready for uploading to your ACX project.
Upgrade to Premium right in the app.
If you like what you hear in the Free version, and you want to save even more time and effort with the Premium version, you do that right in AudioCupcake itself. There's a convenient Go Premium button always available to you, right on the app's main window. Just two clicks and you're in: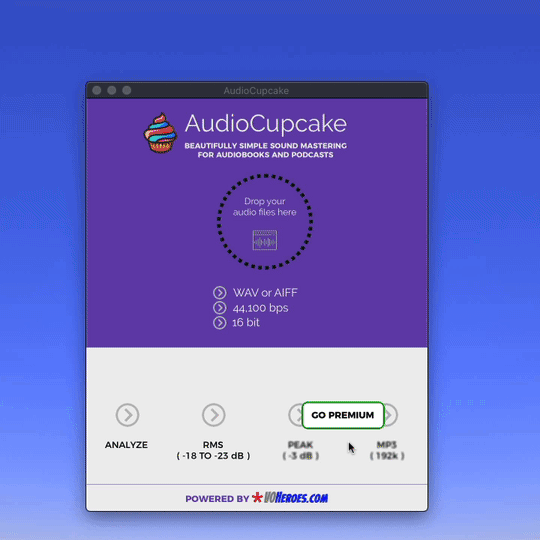 But everyone starts with a free download.
Free to download.
Click the AudioCupcake below to get AudioCupcake up and running in less than 30 seconds, absolutely free:
A Black Friday/Cyber Monday special? Of course.
In the app, use the coupon code BLACKFRIDAY and save 45% – Premium is just $11 through 12/1/20. Simple!
Need some extra help?
Just visit the AudioCupcake Help and FAQ page.
Want to know more about AudioCupcake?
Happy to keep you posted. Just let us know how to reach you: